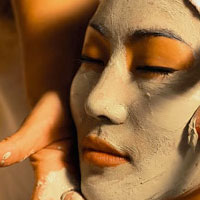 Your kitchen is a virtual beauty store just waiting to happen. Why don't you find some special time today and enjoy a nice facial – in your own home!
Oatmeal Mask – Combine 1 tablespoon oatmeal with an egg white. Smooth on your face and let dry. Wash with soap and water. If you have dry skin, smooth some mayonnaise on your skin after the treatment and rinse with water. If you have dry skin, smooth on plain yogurt afterwards and rinse.
Apricot Smoothie – Place six dried apricots in a glass of water just before you go to bed. In the morning, puree the apricots into a nice paste. Smooth the apricot mixture on your skin and allow it to sit for five minutes. Rinse with warm water. What a wonderful way to start your day!
Reduce Black Heads and Help Your Oily Skin – Smooth Milk of Magnesia on your face once a week, avoiding the eyes. Allow to dry and rinse with warm water.
Oily Skin Mask – Mix 1/2 cup mashed strawberries with one teaspoon lemon juice. Allow mask to dry on skin and then rinse with warm water.
Dry Skin Mask – Whip together one egg yolk and 2 teaspoons olive oil. Smooth on skin, allow to dry and rinse.
Healthy Skin Treatment – Open a chamomile tea bag and sprinkle the contents into one cup of yogurt. Allow to sit in the fridge for a few hours. Use as a facial mask and rinse with warm water.