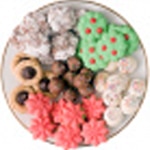 With Christmas just around the corner, women all around the world will soon be baking loads of amazing cookies. Cookie exchanges, cookie gifts, cookies for family… yum!
So how do you make a terrifically moist cookie? First, use a little less dough than the recipe calls for. Chill your dough before cutting or rolling, and handle it as little as possible.
When a recipe calls for softened butter, please don't pop it in the microwave for a quick melt! This will change the structure of your butter, breaking it down and making your cookies a little less wonderful. If you want to soften it quickly, grate it over a bowl and let it sit until ready.
When you are baking, set the time for about three minutes less than the recipe calls for, then take them out of the oven when the timer rings.
Now, for our secret SECRET tip for making your cookies extra moist… When you are putting your ingredients together, add one tablespoon of jelly to your dough. Mix, chill, bake and enjoy!
You Might Also Like: