Marshmallow Sweet Potato Recipe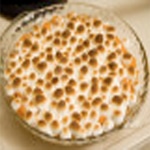 Nothing's better than sweet potatoes simply smothered in melted marshmallows this time of the year!
Here is a wonderful recipe that both you and your family will certainly enjoy. Yum!
Ingredients:
8 Sweet Potatoes
Heavy Cream
½ Cup Chopped Dates (optional)
½ Cup Crushed Pineapple
3 Teaspoons Cinnamon
1 Tablespoon Butter
Bag of Miniature Marshmallows
Preheat the oven to 350 degrees Fahrenheit. Poke holes in the sweet potatoes and microwave them one at a time until they are soft when pierced with a fork. Allow the potatoes to cool. Cut open the sweet potatoes and scrape them out into a large bowl. Add a little bit of heavy cream and mash or whip them until they are smooth. Add the dates, pineapple and cinnamon. Stir well until all the ingredients are blended.
Spray a casserole dish with non-stick cooking spray. Spoon in the sweet potato mixture and dot the top with butter. Pour your miniature marshmallows over the entire top of the sweet potatoes. Bake for about an hour. Your marshmallows should have a nice brown color to them once it is done. Enjoy!