The Truth About Coconut Oil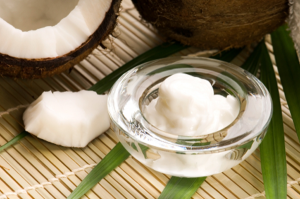 If someone offered you a free jar of coconut oil, would you politely turn them down? After all, coconut oil is not only full of fat but is one of the unhealthiest oils you can use. Right? Wrong!
Over the years coconut oil has gotten a lot of negative publicity, when in fact there are some wonderful benefits to coconut oil. It can be used in both the kitchen and in the home. Once you try it, coconut oil will become a regular staple in your household.
Let's start with your hair. Massing a small amount of coconut oil on your scalp will keep it moisturized and healthy. Coconut oil will make your hair shiny and will repair dull and damaged hair. It is said that coconut oil is a natural cure for dandruff as well.
Not only will the antioxidants in this oil moisturize your hair, but your skin as well. Using coconut oil on your skin regularly will keep the wrinkles at bay and keep you looking younger longer.
How can you use coconut oil in the kitchen? It tastes delicious added to a healthy meal that includes ground turkey, cilantro, olive oil, garlic, onions and jalepenos. You can cook breaded shrimp in coconut oil and even put a few drops in your coffee.
What health benefits can you receive when cooking with coconut oil? The short and medium-chain fatty acids can actually help your body to lose weight. Coconut oil is easily digested and helps your thyroid system to function properly.
What can coconut oil do for your immune system? The three healthy acids and antimicrobial lipids in coconut oil contain antibacterial, antiviral and antifungal properties. These help to fight bacteria and viruses. It is also said that coconut oil will heal small cuts and bruises by repairing damaged tissue.
Our favorite coconut oil is Gold Label Virgin Coconut Oil from Tropical Traditions. (http://www.tropicaltraditions.com/virgin_coconut_oil.htm) It is not only delicious in food but will provide moisture to both your skin and hair. This oil is certified organic and is guaranteed to be free of chemicals and pesticides. Try it – you won't be disappointed!